Spray Trucks
Maximize Your Productivity
We build spray trucks for some of the top lawn care companies in the nation. Let us build and customize one for you.
Your file uploads are secure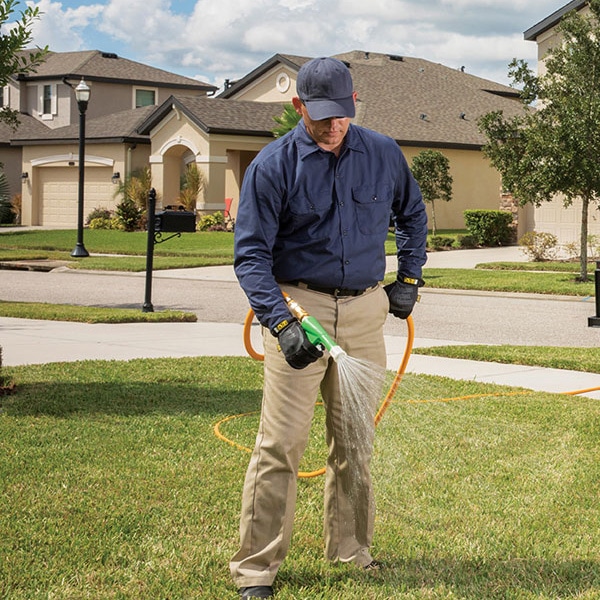 2020 FabMetals MRT
Our compact spray truck offers great maneuverability in a fuel efficient and low maintenance package. The standard 400/150/65 tank configuration covers a wide range of chemical applications to service your lawn care and pest control customers.
Because our trucks are built to your specifications, you get the exact truck to meet your needs – loaded with the options that are vital to your success.
Our powder coated aluminum and stainless steel shell is durable, weather-proof and secure. Your equipment is enclosed and lockable.
No more loading and unloading your gear each day or worrying about things falling off while travelling down the road.
The MRT is equipped with a remote fill station for quickly filling and draining the liquid storage tanks.
Choose from a wide range of tank options to transport liquid fertilizers, herbicides, and other chemicals to best serve your customers.
Mix products as needed with our dual treatment injection system, which adds a chemical from tank three and precisely mixes it with either tank two or tank one at the applicator gun.
Allow your team to perform multiple services along their routes to maximize profits and minimize waste.
One of the biggest complaints we hear from the field is that our competitor's hose reels bind, leak and sometimes they just don't work at all.
We designed our own hose reels using durable stainless steel frames with a belt driven retraction system.
With a whopping 110 cubic feet of space, you can pack plenty of gear and make the most out of your service routes. Focus on getting the job done and less time making supply runs.
Customize your dry storage space to meet your needs with racks, shelves, hooks and tie-downs.
Whether you're a veteran business owner and know exactly what you want or you're just starting out and need help, we understand that your needs are unique. We will help you create a custom rig that optimizes your efficiency and profitability.
We build your spray truck from the ground up – your way.
Quality Components
We design, manufacture, and assemble everything in-house to ensure the finished product exceeds your expectations.
✓ Aluminum and stainless steel construction
✓ Durable powder coated finish
✓ Polycarbonate tanks
✓ Honda GX-160 pump engine
✓ Hydra-Cell 8.8 gpm pumps
✓ (2) 400 ft. hose reels
✓ Endless customization options
We Understand Your Business
FabMetals has upfitted vehicles for the lawn care and pest control industries for over 30 years and we go to great lengths to know our clients so we can provide them with the best possible solutions.
We train you how to operate and maintain your new spray truck, and offer lifetime parts and support.
Add Revenue Streams
It's not a spray truck – it's a money machine. Create additional income for your business by adding a lawn care or pest control program to your company's service offerings.
✓ Predictable, steady income
✓ Earn more by up-selling services
✓ Increased revenue per employee
✓ Higher customer retention
PUT YOUR IDEA INTO PRODUCTION
Contact Our Design Team
No matter how simple or complicated your project is, it's important to us. You are looking for a fabricator who fits your budget, a turnaround that satisfies your time frame, and most importantly – quality that exceeds your expectations.
Let's get started today!
Your file uploads are secure