SPRAY TRUCKS
We are one of the largest lawn treatment and pest control truck companies for over 25 years.
Let us build the perfect truck spray system for you.
The #1 Spray Truck Builder
Build a lawn spray truck or pest control truck customized to your operations, complete with the right tank configuration, pump system, and leak-free hose reels—all housed in a low-maintenance, fuel-efficient compact truck.
Reduce Downtime
Get the most out of your service routes with trucks built for maximum performance. With generous storage to reduce refills
Grow Your Client List
Expand your capabilities with the right spray rig features. Establish yourself as the best service provider in your area.
Increase Profits
Get more done in less time. Service more accounts, cover more acres, and achieve a bigger bottom line.
Build Your Truck Your Way
Broaden your lawn spray truck and pest control truck applications product applications with configurable tanks and mixes. Since we build to your specifications, your truck will meet your particular needs and address bottlenecks in your current operations.
With our 30 years of experience, you are assured of high-grade components assembled with top-notch workmanship. We also offer a 1-year fab metal warranty.
Let's start on your custom build today.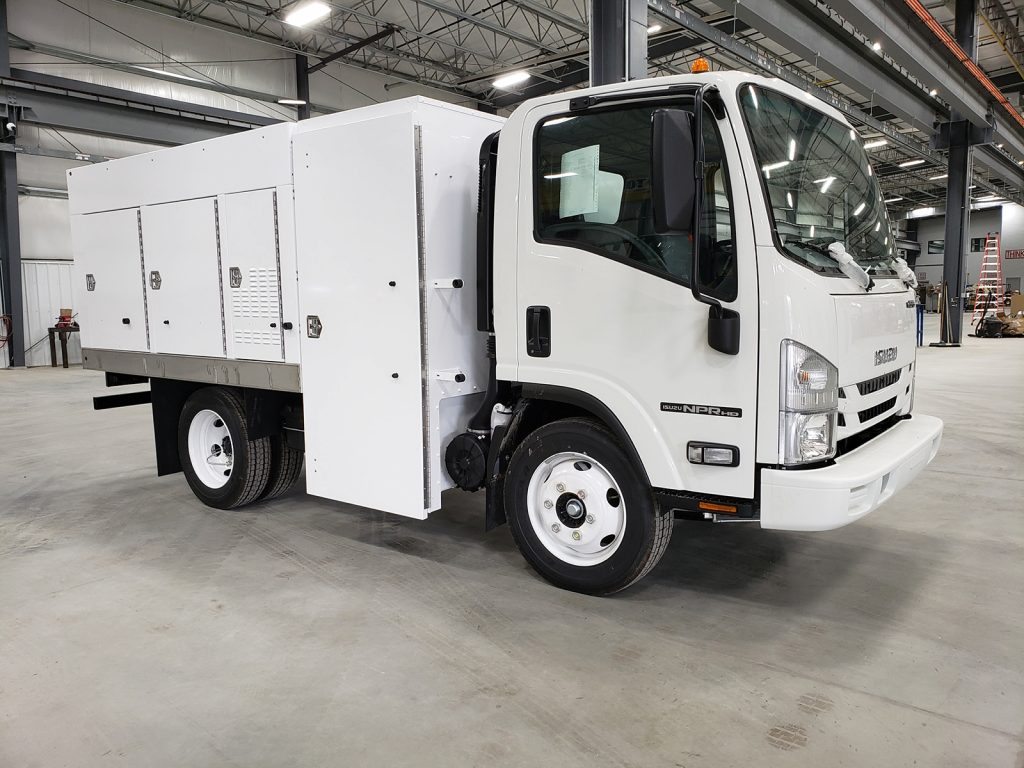 Isuzu NPR-HD Standard Cab
● Engine: 6.0L V8 Vortec engine
● Transmission: 6-speed automatic w/ double overdrive
● GVWR: 14,500
● Curb Weight: 8,920 lbs.
● Fuel Capacity: 30 gal.
Configuration
Our standard 400/150/65 configuration transports liquid fertilizers, herbicides, and other chemicals to best serve your customers. We can customize the tank configuration to meet your needs.
Dual-Treatment Injection
Mix products as needed by adding a chemical from tank three and precisely mixing with either tank two or tank one at the applicator gun.
Pump Engine
● Honda GX-160 4.8hp 4-stroke
Pumps
● Wanner Engineering Hydra-Cell D10 8.0gpm diaphragm
One of the biggest complaints we hear from the field is that our competitor's hose reels bind, leak and sometimes they just don't work at all.
We designed our own hose reels using durable stainless steel frames with a belt driven retraction system.
With a whopping 110 cubic feet of space, you can pack plenty of gear and make the most out of your service routes. Focus on getting the job done and less time making supply runs.
Customize your dry storage space to meet your needs with racks, shelves, hooks and tie-downs.
Whether you're a veteran business owner and know exactly what you want or you're just starting out and need help, we understand that your needs are unique. We will help you create a custom rig that optimizes your efficiency and profitability.
We build your spray truck from the ground up – your way.
Improve your spray truck chassis with a Spray Truck upgrade
METAL FABRICATION
Industry-Leading Expertise & Flexibility
Our certified welders are highly skilled in their craft, offering precise results and quick turnaround times.
Multi-Service Metal Fabrication
✓ Small parts and pieces
✓ Mid-sized components
✓ Large frames and structures
✓ Heavy and industrial
✓ Assembly
✓ Steel, stainless steel, aluminum