A Google My Business account lets you show up in search results when people are looking for your services online. It's free, which makes it an affordable marketing tool for your lawn care business.
This comprehensive guide will show you how to set up your account along with a few tips on how to get the best results.
Do You Need a GMB Account?
In a word: yes.
It's a no-brainer that your lawn care business needs an online presence. Your prospects are online, and more than likely that's where they will start to look for your products and services.
A Google My Business account ensures that when someone looks your company up using Google Search or Google Maps, they are able to find it. Here's why that is super important:
Searches for "_________ near me" have skyrocketed 900% over the last 2 years. If someone in your area searches for "lawn care services near me," your business needs to show up on that list.
Here's the thing…
One of the top reasons small businesses fail is lack of awareness. Your potential customers don't even know you exist. Unless they already know your name and where you are located, it may be difficult for them to find you.
Keep Customers Informed
Don't leave customers guessing about your business's important details. Or leave them up to Yelp, Angie's List, and other review sites over which you have no control. Make sure that when someone searches for your business, they find legitimate information, straight from the source.
Your GMB listing will show a link to your website, phone number, business hours (and holiday closings), and other information. You can also share images of your work – which is great for attracting new customers.
Google My Business also allows visitors to leave reviews, which are a powerful tool for building trust and credibility.
Here's how to get started…
Set Up Your Google My Business Account
Step 1: Sign in to GMB
Go to www.google.com/business to sign in. You can either sign in with a pre-existing Google account, or create a new one. If you already have a Google account, skip ahead to the next step.
Tip #1: You may already have a Google account if you use an Android phone or GMail.
Tip #2: Use your business email if you have one (info@jimslawncare.com)
Step 2: Add your business
Enter your business name. If it does not appear in the drop-down menu, click Add your business to Google. Then select the appropriate category for your business.
Tip: Enter "lawn care service" as your business category.
Next, you'll want to add your location details. If you have a physical location customers can visit, select yes and add your address. You may also be asked to position a marker for your location on a map. If your business does not have a location customers can visit, you can just list your service area.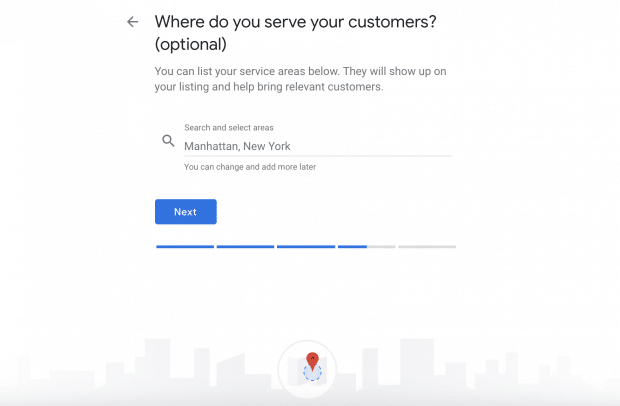 Enter your business phone number and website info. If you use a Facebook page rather than a website, you can add that instead.
Step 3: Verify your listing
Postcard by Mail is the default verification option. If your business is eligible for other methods, such as phone or email, choose the one you prefer. Fill in the required details, double check to make sure you've entered it correctly, then submit the form.
You'll get a robocall within a few minutes, so be sure to stay by the phone you listed on your account. You'll hear a verification code to enter on the GMB website. This method is often glitchy, so it may not work for you.
The postcard method can take up to two weeks. The postcard contains a verification code that you must log into your account and enter.
My business is already listed – how did that happen?
Google Maps may have already created a listing for you. If that's the case, just click on the map pin and select Manage this listing. You'll follow the same process above to claim it.
Sometimes a Google search will turn up an unclaimed business listing. Just click on Own this business? and follow the verification process.
Manage Your GMB Listing
Okay, your basic listing has been set up. Now what? Here's what Google says:
"Local results favor the most relevant results for each search, and businesses with complete and accurate information are easier to match with the right searches."
1. Categories
When you set up your account, you added your primary category as "lawn care service." You can add up to 10 total, so consider the services you provide and add them. Most will not show up in the drop-down menu, but add them anyway. Here are some to consider:
Lawn fertilization
Lawn weed control
Mowing service
Pest control service
Shrub and tree care
Landscaper
Google Trends is a great tool to discover what people are searching for. Just be careful that you don't get too specific when defining your categories. You want to cast a wide net.
2. Add photos
Be sure to upload your logo and a cover photo (similar to Facebook). For your cover, use images that are consistent with your website and social media accounts.
You'll want to add new photos of your work regularly. Google says businesses with photos receive 42% more requests for directions, and 35% more clicks to their websites.
We try to add a couple of new photos to our GMB listing every week, and it definitely helps us get more looks.
Tip: Don't just upload photos of lawns. Images with people get far more engagement!
3. Add news and deals
You can add posts to your Google My Business profile, kind of like posting on your own website blog.
Land a big new commercial property? Post about it! Offering a new promotion? Post about it!
These posts can keep your profile fresh, drive sales, and encourage visits to website.
3. Encourage reviews and questions
Lots of reviews not only boost your Google ranking, but can be a big reason why someone chooses your lawn care service over your competitors.
If an upset customer leaves a bad review, you have an opportunity to respond. Apologize, confirm that it's a legitimate complaint, and do your best to make it right.
Make sure to answer questions, too. Anyone can respond to a customer question left on your Google My Business profile. Try your best to respond first.
Tip: Install the GMB app on your smartphone so you get notifications when there is activity on your page. Don't let questions or bad reviews go unanswered.
4. Insights
Interactions and statistics for your GMB page are tracked. You can see how many people search for you, call your business, ask for directions, click on your photos, and more. Just click on the Insights tab.
This information can help you decide what is popular on your page, so you can add more of what people want and less of what they don't seem to engage with.
You can also link your GMB page to a Google Ads account, if you want to start using paid ads (you should). By using your Insights data, you can create better ads and get more bang for your buck.
As a local service provider, making the most of your Google My Business page is one of the best things you can do to increase awareness for your lawn care business.