CNC Forming
Repeatable Accuracy
Our wide selection of tooling can accommodate everything from simple to complex bends for your fabrication project.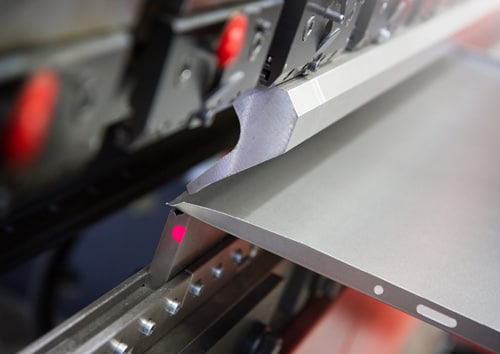 FORMING CAPABILITIES
Flat Sheet:
Max bend length: 161"
Max force: 400 tons
Tolerance: ± 0.005"
Tube & Profile:
Max size (angle, bar profile): 4" x 4" x 3/8"
Max size (tube): 3" OD x 3/16" x 12'
Max bend angle: 195°
CNC Press Brake Forming
FabMetals utilizes several modern press brakes to service your demand for cost efficient, but accurately formed parts.
We can create nearly any bend, including short flanges or acute bends over 90 degrees.
Our bending operations are pre-programmed through our engineering department, which cuts overall setup time by 70% and allows us to test and perfect bends in a CAD environment prior to a job reaching the shop floor.
The setup for making your parts is documented and optimized. Repeat orders of complex components are efficiently processed for repeatable accuracy and cost savings.
CNC Tube Bending
We use 3-axis CNC benders to produce multi-radius, precise shapes without crimping or weakening the metal.
✓ Round tube and bar rolling
✓ Angle, square and channel profiles
✓ Specialty shapes
CNC Turret Punch
Our punching process is a cost-effective way to avoid the expense of multiple, job-specific tooling.
✓ Attractive look and feel
✓ Uniform hole sizes
✓ Reduced complexity, time and expense
What is Press Brake Bending?
Press Brake Bending Basics
CNC (Computer Numeric Control) bending is an economical method of producing 3D parts from 2D metal sheets. CNC press brakes are very accurate and able to provide close tolerances.
How Does Press Brake Bending Work?
Bent sheet metal parts are commonly made using a pneumatic or hydraulic machine, where a metal sheet is pressed between a punch and die to bend it to the desired angle or shape. Press brakes may bend metal several times depending on the final desired form.
Benefits of Press Brake Bending
Bending allows using a single piece of metal to arrive at the same outcome as welding together several separate parts. In addition to cost savings, formed parts are generally more accurate, have cleaner aesthetics, and readily accept coatings and finishes.
We utilize hydraulic and electric CNC presses for most jobs. We also have mechanical presses for bends in material that require more force.
Bend crowning compensates for machine deflection. Our state-of-the-art brake presses automatically adjust the elevation of the press bed center to provide bend angle accuracy across the entire length of your parts.
We use rotary draw and roll bending machines. Use our Request a Quote form and we'll provide you with a custom quote for your tube bending project.
The punching process can punch holes, shear, notch, form louvers and punch angles.
PUT YOUR IDEA INTO PRODUCTION
Contact Our Design Team
No matter how simple or complicated your project is, it's important to us. You are looking for a fabricator who fits your budget, a turnaround that satisfies your time frame, and most importantly – quality that exceeds your expectations.
Let's get started today!