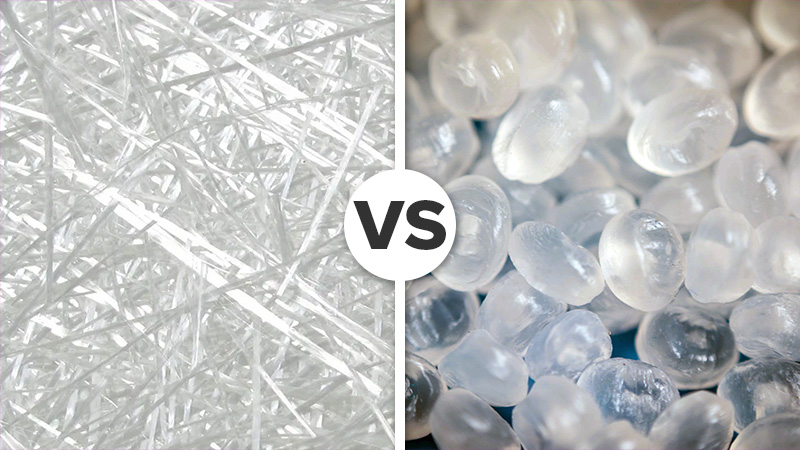 Chemical storage tank configuration and capacity play a major role in how a spray truck performs. Lawn care and pest control business owners can customize their equipment depending on the services they offer to customers.
Tank construction is also a vitally important, yet often overlooked feature. Chemical storage tanks come in a variety of materials. Two of the most common are fiberglass tanks (FRP) and polyethylene (PE) tanks.
Let's take a look at the differences between these two storage tank options.

Fiberglass Reinforced Plastic Tanks
FRP tanks are rigid, but light and thin, making them susceptible to cracking. Fiberglass tanks are not one-piece construction – they contain seams, which are weak areas where leaks can occur. Compartmentalized fiberglass tanks are especially prone to leaks.
FRP tanks involve hands-on production, which means more opportunities for human error.
Chemical corrosion barriers added to the resin increases expense.
Regular inspection and maintenance of FRP storage tanks is needed, often requiring confined space entry.
Polyethylene Tanks
Polyethylene storage tanks offer one-piece molded construction due to the rotomolding manufacturing process, and do not have seams where leaks tend to develop.
Automated production significantly reduces inconsistencies in quality.
Corrosion resistant – expensive coatings are not required.
Routine inspection and maintenance is still required, but much less of a chore.
PE tanks can be also be designed to block UV light, which can have an impact on some lawn care and pest control applications.
FabMetals Chemical Storage Tanks
The chemical storage tanks in our MRT spray trucks use Linear Low Density Polyethylene (LLDPE). It has a tremendous amount of strength, yet is flexible enough to absorb impacts without tearing or puncturing.
Our tanks are not compartmentalized like most of our competitors. In any configuration, we use individual tanks – not a single tank with thin interior walls to separate different chemicals.
The end result is a chemical storage solution that is UV-resistant, durable, and low maintenance without concerns of leaking and cross-contamination.
Contact us, and start building your customized lawn care or pest control spray truck today.