Laser Cutting
We're laser focused on saving you time and money.
Laser Precise & Lightning Fast
Our state-of-the-art laser cutting machines feature an automatic load/unload system with 24/7 production capabilities. Our equipment enables us to provide quick turn prototyping and rapid start-ups on laser cutting production orders and allows us to be more flexible for our customers. These features provide consistent, quality products, while meeting your schedule.
Maximum Productivity
Our lasers are equipped with Trumpf TruStore 3030 storage towers with automatic load and unload capabilities, which increases our machine utilization rate by 100%. While most of our competitors are limited to just one shift for production, we can run your parts around the clock.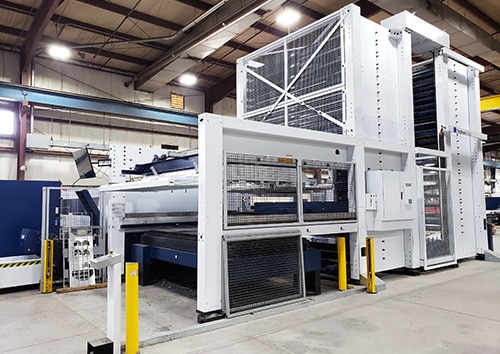 LASER CUTTING CAPABILITIES
Thickness: 0.024" - 1"
Size: 80" x 240"
Materials:
Mild Steels
Stainless Steels
Aluminum
Copper
Brass
High Speed Lasers
Our state of the art 6,000w and 8,000w laser cutting machines combine high performance with cut quality that produces a perfect, micro-burr-free result. We can cut parts in a variety of metals, up to 1″ thick.
Ready to make your idea a reality?
Contact our design team
No matter how simple or complicated your project is, it's important to us. You are looking for a fabricator who fits your budget, a turnaround that satisfies your time frame, and most importantly – quality that exceeds expectations for your company or final customer.
Let's get started today!